Welcome to our virtual crawl! We hope to be able to open back up to in-store shopping soon...but for right now we are going to rock this crawl, virtual style!
Check out this video for more information about our patterns and the yarns we recommend!
How does this Slow Yarn Crawl work? Well, this year it's a LITTLE different due to Covid-19.
The crawl begins
May 22nd and ends September 27th.
You purchase a passport (either from your favorite LYS or the Yarn Crawl site) then make a purchase at each online shop (or in-person once that is possible. And you can choose as many or as few as you would like!).
When you make your purchase, you will receive a stamp (we mail you a sticker) in your passport and 2 free patterns (1 knit, 1 crochet).
Please write "Slow yarn crawl" in the notes of just one item so we know you are on the crawl.
Each shop you "visit" you will be entered to win a prize from that shop at the end of the crawl.
Fill up a region OR THE WHOLE THING and win prizes! For more information about the prizes please check out the Slow Yarn Crawl site:
http://www.slowcrawl.com/



OUR PATTERNS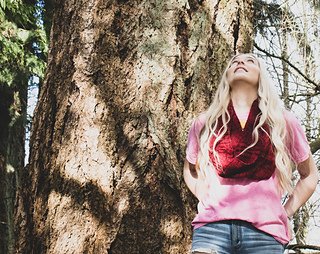 Our knit pattern this year is the
Emma Cowl
. It is the companion to our very popular
Emma Hat
pattern!
We used 2 skeins of Malabrigo Worsted for one of our samples, 2 skeins of Malabrigo Washted for the sample photographed above (we used the colorway CEREZA!) OR you could use 2 skeins Rios.
We will put all of those listings below, just add two of your favorite color to your cart and in the notes area, please type SLOW YARN CRAWL so we know to give you your free patterns and your "stamp". You will also need a US8-24" circular knitting needle, stitch markers, cable hook and a tapestry needle to complete this project!
Our crochet pattern this year is the
Verdite Cowl
.
Sometimes a very simple stitch can create something gorgeous. Traditionally used in a corner to corner blanket…we made it into a triangle and added some buttons for a fun and versatile accessory. You will need 1 skein of Tide by Queensland Collection (we used the OLIVE GREEN colorway!). Just pick any color you like, and please add SLOW YARN CRAWL to the note box before you add it to your cart! This will ensure that you receive your free pattern codes, "stamp" AND while quantities last, 2 free buttons to complete your project! You will also need a Size J crochet hook and a tapestry needle for weaving in ends! Need a little help getting started? We made a little video! https://youtu.be/4MSTWT-8gEE
If we are temporarily out of passports, you can purchase yours here:
http://www.slowcrawl.com/store/p1/Slow_Yarn_Crawl_2020_Passport.html


You can choose to have your order shipped, or select curbside pickup and you can pick up
Wednesday Noon to 3, Friday 3pm to 5pm or Saturday Noon to 3pm
. If those times don't work, just email us at info@alittleknitty.com and we will set up a more convenient time! Our curbside service takes every precaution to be contact-less, just stay in your car when you arrive, call us at 206-659-5987 and we will bring it out to you!
| | |
| --- | --- |
| Showing 1 - 6 of 6 results | |